EL CLÁSICO: 'The Big Sleep', obra maestra del cine negro con una gran historia de amor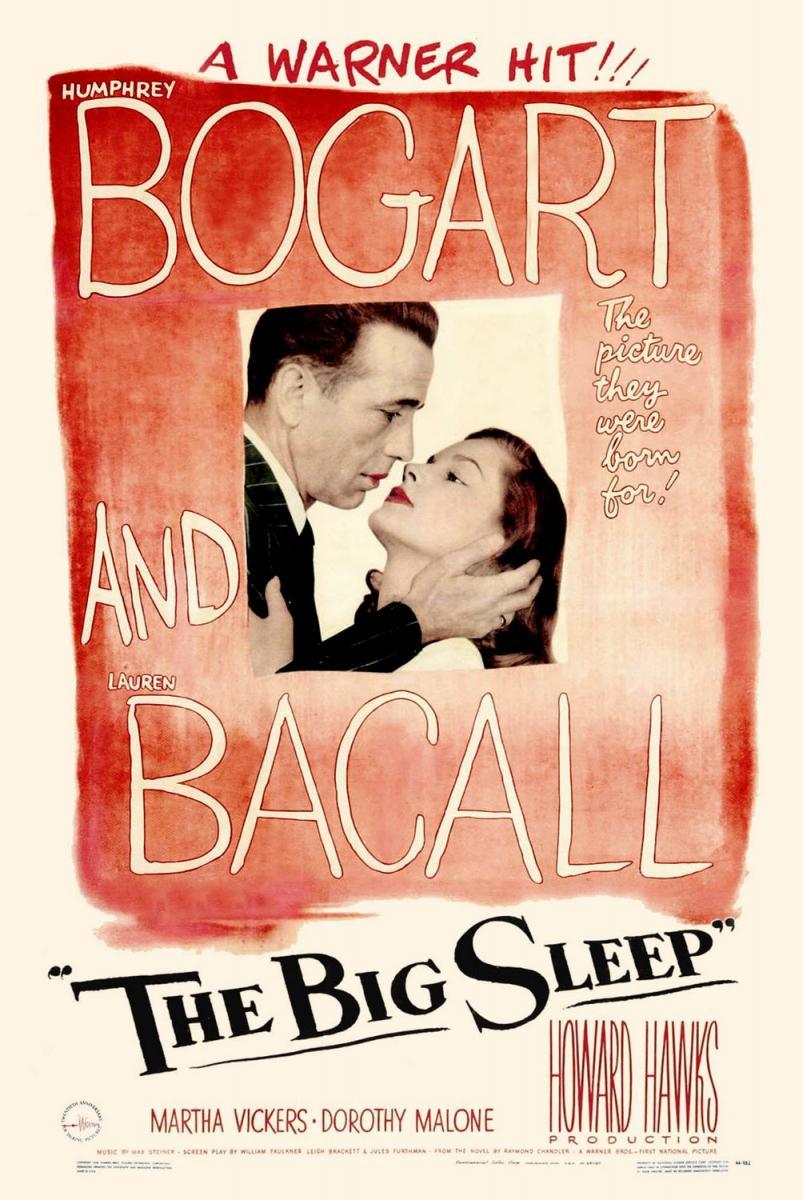 Título:
The Big Sleep
Director:
Howard Hawks
Guión:
William Faulkner, Leigh Brackett, Jules Furthman (Novela: Raymond Chandler)
Fotografía:
Sid Hickox
Año:
1946
Duración:
114 min.
País:
Estados Unidos
Productora:
Warner Bros. Pictures
Reparto:
Humphrey Bogart, Lauren Bacall, John Ridgely, Martha Vickers, Dorothy Malone, Regis Toomey, Elisha Cook Jr., Peggy Knudsen
Des de que leí parte del
dos
sier
que dedicaban a
Howard Hawks
en
'Dirigido por'
-recomendable revista centrada en la labor del director- que he tenido ganas de adentrarme en el cine de este director clásico que se acercó a casi todos los géneros: el cine negro, la comedia, el western, el cine bélico y el drama. Hoy por fin he visto la primera película del director que tanto gusta a
Tarantino
(quién ha declarado que
'Rio Bravo'
(1959), de
Hawks,
es una sus películas preferidas), '
The Big Sleep'
(1946).
'The Big Sleep', cumbre del cine negro, está protagonizada por Humphrey Bogart y Lauren Bacall, con guión de William Faulkner, Leigh Brackett y Jules Furthman y basado en la novela de Raymond Chandler del mismo nombre.
Un millonario -el General- contrata a un investigador privado, Philip Marlowe, para que investigue un chantaje -el reclamo por parte de un tal Geiger de dinero ganado en una apuesta a su hija Carmen- del que el millonario está siendo víctima , aunque en realidad también quiere descubrir el paradero de Sean Reagan, quién fue su investigador privado en un chantaje anterior, además de descubrir en qué líos andan metidas sus dos hijas, Vivian y Carmen Sternwood.
A partir de la primera pista que Marlowe tiene, la dirección del trabajo de Geiger, el investigador privado empieza a rastrear el paradero de Geiger, aunque cada avance que consiga complicará mucho más el caso, desperdigando nuevas piezas de un puzzle inabarcable para el espectador, pues el desfile de nombres -Sean Reagan, Joe Brody, Eddie Mars, Mrs. Mars, Harry Jones, Agnes, Geiger, Canino...- hará imposible que retengamos en nuestro castigado cerebro al menos las partes más importantes de la investigación.

Llegado a cierto punto, el espectador se encontrará en una encrucijada: o le da al pause e intenta hacer una lista con todos los personajes implicados intentando describir su relación por lo poco que se dice en la película, o simplemente, se limita a dejar que sea el investigador Marlowe -que por cierto con su mirada y el intercambio de algunas palabras ya conquista prácticamente a todas las mujeres con las que se cruza- quién vaya hilvanando todos los hilos de este caso.

Al principio, tras escuchar el encargo del millonario, podemos pensar que se trata de un caso menor, algo simple y banal, pero conforme la película avanza, la trama se complica hasta ese punto en que dejamos el caso en manos del brillante detective Marlowe y los asesinatos se precipitan como si fueran hechos cotidianos. En ese momento, podemos centrar parte de nuestra atención en las magníficas interpretaciones de los protagonistas, a la genial puesta en escena del desde ya maestro Howard Hawks y a los ingeniosos y divertidos diálogos que muchas veces ofrecen una segunda lectura más allá de lo que parece a simple vista.
Es imposible seguir todos los pasos de la investigación de Marlowe
Y es solo al final, ese final que para el común de los mortales no resuelve todas las dudas que se han abierto a lo largo del film, cuando nos damos cuenta que 'The Big Sleep' es una gran película de cine negro que encierra una historia romántica, y es precisamente la mano de Hawks la que aquí decide dar mayor importancia a la historia de amor, pues si la película no ofreciera nada más que esa maraña de asesinatos sin resolver, probablemente 'The Big Sleep' no sería la gran película que acabó siendo.